LOW VOLUME, FAST, AND RELIABLE SHIPPING AVAILABLE
Our convenient location near major shipping lanes in Virginia allows leafjoy™ plants to get to your garden center quickly, with no need
to fill an entire truck. With multiple low-volume shipping and ordering configurations, you can order the appropriate amount of leafjoy plants for your size store and easily refill inventory throughout the year. Contact our sales team for more information and start your leafjoy department started
Ordering leafjoy™ for your garden center
We have developed several ordering packages for garden centers of all sizes. Our diverse mix of varieties and container sizes will make your leafjoy houseplant department stand out and catch the shopper's eye. The minimum order size is one pallet of plants with the ability to customize the variety mix.
leafjoy shipping options
Palletized Boxes: using FedEx LTL Freight, you can receive one pallet, or more, at a time.
CC Carts: 1/2 and full truckload options are available using LTL shipping.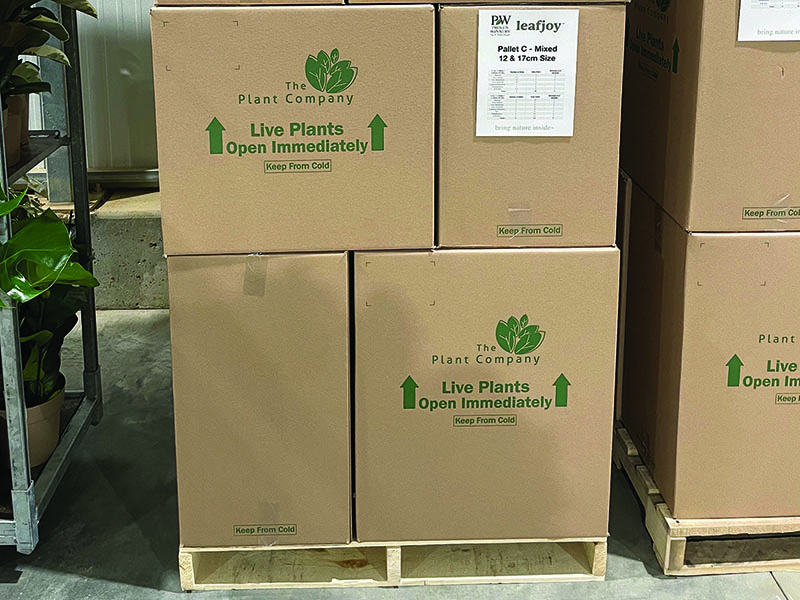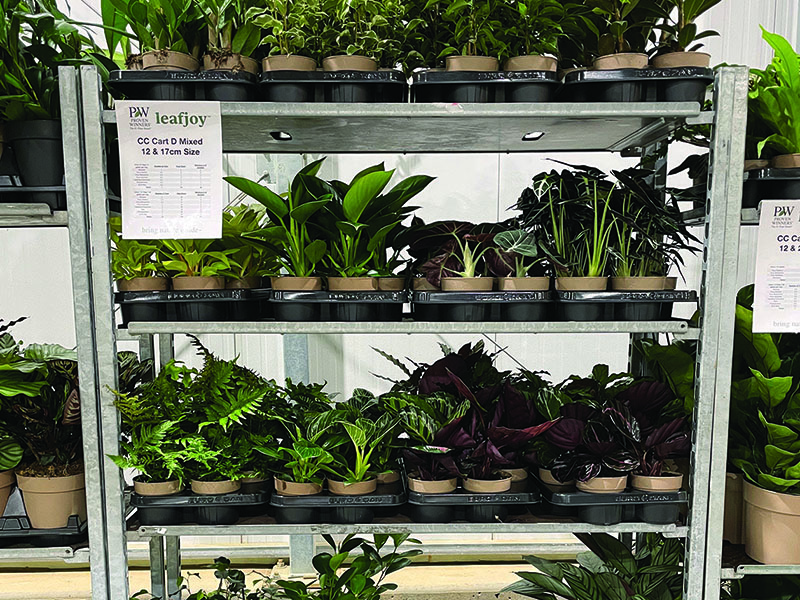 | PALLET | ITEM DESCRIPTION | BOXES | PALLET HEIGHT | TOTAL NUMBER OF PLANTS |
| --- | --- | --- | --- | --- |
| A | 12cm size only | 2 layers of 15" tall boxes and 2 layers of 22" tall boxes | 79" | 220 |
| B | 17cm size only | 1 layer of 22" boxes and 2 layers of 28" boxes | 83" | 90 |
| C | 3 layers of 12 cm and 1 layer of 17cm | 1 layer of 17cm in 28" tall boxes, 1 layer of 12cm in 15" tall boxes, and 2 layers of 12cm in 22" boxes | 92" | 195 total (165 containers of 12cm and 30 containers of 17cm) |
Sample CC Cart ordering configurations
| CC CART | ITEM DESCRIPTION | NUMBER OF SHELVES | PLANTS PER SHELF | TOTAL NUMBER OF PLANTS |
| --- | --- | --- | --- | --- |
| A | 12cm only | 5 | 40 | 200 |
| B | 17cm only | 3 | 24 | 72 |
| C | 21cm only | 2 | 17" | 34 |
| D | Mix of 12cm and 17cm | 3 shelves of 12cm and 1 shelf of 17cm | 12cm - 40 plants 17cm - 24 plants | 144 Total 12cm (120) / 17cm (24) |
| E | Mix of 12cm and 21cm | 1 shelf of 12cm and 2 shelves of 21cm | 12cm - 40 plants 21cm - 34 plants | 74 Total 12cm (40) / 21cm (34) |