We started The Plant Company in 2019 to reinvent the houseplant industry. This may sound a bit audacious, but it truly is at the heart of everything our team does every day of the year.
While The Plant Company is a young business, horticulture runs in our veins as we've been in this industry nearly our entire lives. As we built The Plant Company, we recognized that garden centers deserved innovative, high-quality houseplants that were easier to source and didn't require buying a whole truckload at a time. We also realized that while consumers love houseplants, many are stripped of caring for them because the traditional houseplant suppliers didn't give them the essential support needed for success.
We built a state-of-the-art 5-acre greenhouse in the beautiful Blue Ridge Mountains of Virginia, providing us with an optimal growing environment near major shipping lanes. We produce our young plants and finish them to the highest quality standards in North America. We are working with breeders worldwide to source the best performing and innovative houseplants. We have an unwavering commitment to giving consumers the best houseplant experience possible, from buying the plant in your store to supporting them after bringing their legacy plant home.
As we set out to reinvent the houseplant industry, we want to partner with you to help us bring the leafjoy™ experience to your customers. Between our innovative plants and marketing program from Proven Winners, we're confident leafjoy will add value to your business. So give us a call or, even better, visit us and see what we're doing for you!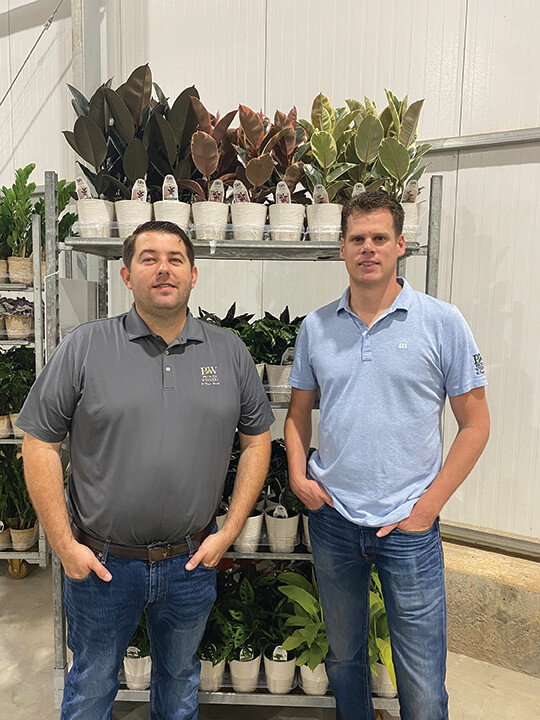 Jason vanWingerden and Frank Paul
The Plant Company co-owners